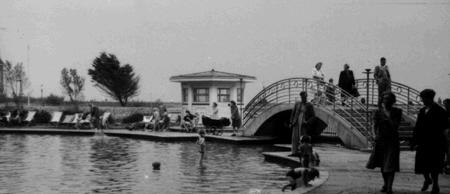 A Little Worthing History
The largest of the West Sussex Coast seaside towns, Worthing retains much of its elegant seaside heritage architecture including the spectacular seafront Baroque Edwardian Worthing Pavilion and the old Edwardian Kursaal leisure centre now the magnificent Worthing Dome Cinema.
Oscar Wilde visited the town in the late 1800s and whilst here wrote 'The Importance of Being Earnest'.
Worthing theatres include the art deco fronted Connaught Theatre, the seafront Worthing Pavilion with its unique ornate stage and the excellent sound quality at the Assembly Hall where you'll often find the Worthing Symphony Orchestra performing.
In 2013, the new swimming pool, Splashpoint, was officially opened by paralympic Gold medal winner Ellie Simmonds. The pool was built on the site of the outdoor paddling pool (pictured above) adjacent to the Aquarena, the pool it was replacing, which was built in the 1960s.